Name: Hooke Road Mad Max Front Bumper & Windshield Frame Cover Combo

Mad Max Front Bumper w/Winch plate

Fits 1997-2006 Jeep Wrangler TJ Models
Bumper Weight: 79 lbs. High Strength D-Ring Mounts w/ D-Rings Included, Built-in Winch plate included for up to 12,000lb. Winch; Premium E-Coating Process for 5-Year Corrosion Protection Under Normal Use. Grill Structure Increase Structural Strength.
Easy Bolt-on Installation
Package Included

1 x Mad Max Front Bumper w/Winch plate

2 x 18W High Powered LED Spotlights
1 x Winch plate w/a Bracket for Winch Solenoid Control System
2 x D-rings w/ rubber isolators against abrasion
Mount Hardware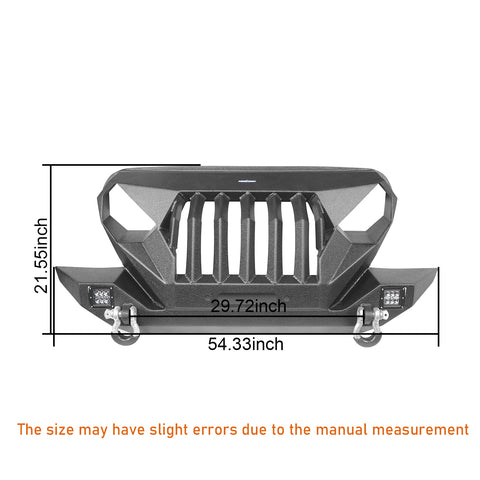 Windshield Frame Cover

Fits 1997-2006 Jeep Wrangler TJ Models
Product weight: about 75 lbs; Heavy-duty, High Tensile 11-Gauge(1/8 Inch) Steel for the Main Body, 8-Gauge(11/64 Inch) for the Structure Mounting Bracket. Textured Black Powder Coat Finish & Premium E-coating Process for 5-year Corrosion Protection Under Normal Use. Outer Sun Visor helps Shade the Eyes of Drivers and Passengers from the Glare of Sunlight; Comes with Center LED Lights Insert. Includes 4×18W LED Spotlights Provides Excellent Front Visibility at Night.
Simple Bolt-on Installation. No Cutting or Drilling Required.

Package Included
1 x Windshield Frame Cover Assembly
4 x 18W LED Spotlights
Mounting Hardware Kit